convert excel dbf to xls Présentation
DBF Viewer & Editor est un outil compact mais puissant pour la visualisation, édition et l'impression des bases de données DBF-format. Il soutient dBase, Clipper, FoxPro, Visual FoxPro et d'autres
format of dbf
DBF. In contrast to many analogues, DBF Viewer & Editor is completely a Windows win7/9x/NT/2000/XP/Vista program. The user friendly graphic makes working with databases simple and hassle free. La plupart des parties importantes du code DBF Viewer & Editor sont écrits en assembleur, donc les opérations de base effectue rapide et le fichier exe. est très faible (seulement 410Kb!). DBF Viewer & Editor utilise ses propres outils d'accès base de données et ne nécessite pas de pilotes externes pour la connexion aux bases de données
convert dbf file into excel
(telles que ODBC ou BDE) ou des bibliothèques supplémentaires (. OCX,. DLL). Le programme vous permet d'ajouter, supprimer, rappelle, en quelque sorte, zap, dossiers pack, afficher et modifier des fichiers sous DOS ou des jeux de caractères Windows, obtenir des informations de base de données détaillées, des fichiers dbf à l'exportation vers txt / format html, csv et xls convertir / xlsx à dbf, import / export à partir de MS Excel (y compris MS Excel 2007 et Excel 2010!), et la recherche dans un fichier. DBF Viewer & Editor est livré avec installation / désinstallation, la documentation au format HTML, et les fichiers d'exemple.
Convert Csv To Dbf
Buy Now!
Free Trial Download

Comment faire pour utiliser Convert Csv To Dbf
View DBF Fichier et Edition DBF fichier à l'aide DBFView le tableau de données
Le tableau de données est une visionneuse facile à utiliser et éditeur de votre ../data/images/.You peut Edit record dbf en cliquant dessus et la zone d'édition s'affiche. Si l'option Modifier le mode est activé et, modifier chaîne de boîte de montre en lettres bleues. Appuyez sur ENTRER pour sauvegarder tous les changements que vous pouvez make.You Supprimer / Rétablir les enregistrements en cliquant sur l'icône (ou) à la gauche de l'en-tête de table record.The permet de trier les dossiers en cliquant sur l'en-tête champ approprié. En cliquant une deuxième fois sur le même en-tête inverse l'ordre. Un petit triangle à droite du texte d'en-tête indique le sens du tri. Le tri est disponible dans le fichier de la mémoire de chargement seul mode ("MEM" est dans la barre d'état "Options - La taille du fichier« Voir pour plus d'informations.) Les en-têtes sur le terrain comprennent le nom du domaine et l'icône de type de champ:.
Character
Numeric, Float
; Date
Logical
Memo
non pris en charge types
Les champs peuvent être glissés dans des positions différentes dans la grille en cliquant sur un en-tête sur le terrain et avec la souris enfoncé, faites glisser le champ à l'horizontale à une nouvelle position sur le grid.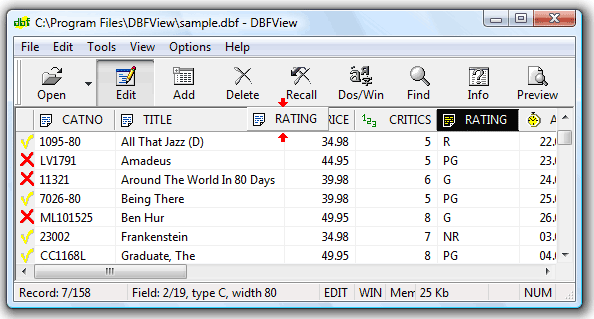 The permet également de modifier la largeur des colonnes par glisser-déposer les diviseurs tête .
what does dbf stand for Convert Csv To Dbf
Csv à DBF Import
Import
du CSV à DBF
données
Imports d'un fichier texte CSV séparés par des virgules dans la base de données dbf actuelle. Vous pouvez sélectionner délimiteurs / séparateurs ainsi que notamment une première ligne à partir du fichier csv.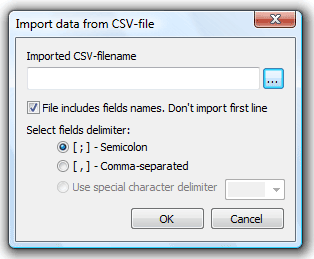 microsoft excel dbf editor Convert Csv To Dbf
Buy Now!
Free Trial Download

Support
Pour le dépannage, les demandes de fonctionnalités et d'appui général à la clientèle aide contact à

.Assurez-vous d'inclure des détails sur votre navigateur, système d'exploitation, version DBFView et un lien (ou code correspondant). dbf conversor
Buy Now!
Free Trial Download